We all want to be known. To be acknowledged as someone. It's an age-old desire.
Likely you've longed for that very thing at some point. Perhaps you are now. A desire to be mentioned by name—like Susanna in the Bible was. 
Susanna? Yes, she really is one of the women whose name is found in the Holy book (see Luke 8:1-4).
Susanna, only mentioned once for demonstrating gratitude for God's healing by following Him and ministering to Him and His disciples, but mentioned nevertheless. 
Wow, imagine having your name written in God's Word! How wonderful that would be. Wouldn't it make you feel good? As if you were really someone.
It may just wipe away all those feelings of unworthiness.
You Are Someone
Well, dear one, let me assure you, you are someone! Someone very special at that.
You are a child of God. You are beloved. You are an heir to the Kingdom. And you don't have to do anything but accept the Lord as your Savior. 
You don't have to do great and miraculous deeds. You don't have to earn a name or your place by His side. 
In fact you can never do enough to be accepted into His Kingdom. And you don't have to. Woo hoo! 
You Are Chosen
I love how God just drops Susanna's name in the Bible. Don't you? Just once. With little explanation. And as I read the passage I wondered why. 
Perhaps it's so we would see that we don't have to be noteworthy to be named by God. [←Tweet this.]
Maybe it's because those who are the most name-worthy aren't necessarily those who do the most note-worthy things. [←Tweet this.]
As far as we know, Susanna didn't preach to thousands. She didn't lead multitudes to the Lord. It's likely she didn't do anything particularly fantastic or out of the ordinary.
The Bible says she was "helping to support [Jesus and His disciples] out of [her] own means" (Luke 8:3). Following Jesus, giving thanks for what He has done. Encouraging, ministering, worshiping, and praising—in her own way and out of her own means. 
She did the very things you are doing. You are demonstrating your love for God by fulfilling His calling right where you are. 
You are ministering to Jesus by sharing His love and supporting others in His name. In little town Midwest, in big city West Coast, in rural country USA, and some perhaps in Anywhere overseas. 
It matters not where you live or how much you have to offer or who else notices you or writes your name in a book.
You are chosen. God chose you as His child, an heir to His heavenly Kingdom.
You Are Loved
Because He loves you! 
And just like Susanna, God does mention you in His Word. He calls you chosen and friend and beloved and His child.
Best yet, by knowing Jesus as Savior, your name is written in the Book of Life.  You are a chosen member of His family, for all eternity.
And that's better than any manner of human recognition, don't you think?
"But you are a chosen race, a royal priesthood, a holy nation, a people for his own possession, that you may proclaim the excellencies of him who called you out of darkness into his marvelous light. Once you were not a people, but now you are God's people; once you had not received mercy, but now you have received mercy." 1 Peter 2:9-10
Reflection: How does knowing you are chosen by God change how you feel about your worth and how you live your life?
I'm once again linking up with Ann Voskamp's 2014 Joy Dare. Find the linkup at A Holy Experience. Beginning where I left off in 2013. And I've counted over 3,000 gifts!! What a blessing! #3029–3049, read the entire list by clicking here.
Sleeping in a tent with my niece Samantha–Rach opted out; Raucous game of football keepaway with the guys; Hanging out clothes in the dark–peaceful

Baking frenzy with my niece –including a quadruple berry pie; My prairie garden blooming lovely; Cousins having fun

Lovely scent given off by my rose bush blossoms; Unusual line of "floating" mist in the evening sky; Sister encouragement 

Afternoon of canoeing/kayaking/sandbar play; Helping nephew Ben tip son Joey out of the innertube; Rach's enjoyment of canoeing/kayaking 

Rachel making progress tonight in a difficult area–a bit of bribing has helped :); God's personal provisions today with more than one issue, always in His perfect timing; Needed rain

Stir-fry: easy to make, uses up leftovers, and delicious; Watching the morning geese antics and realizing I don't speak geese-talk; New motherhood role unfolding with my older boys–weird but good

Rach's surprise at me noticing she turned the radio on after light's out–too cute; Attending church with entire family one more Sunday and worshiping to son Daniel's trumpet playing; Unexpected witnessing on a campground walk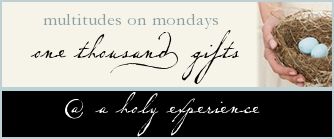 And also linking with Rachel on Wednesday at
Yours in grace ≈
Julie