Don't miss the Giveaway at the bottom of the post!
I rarely find time to read Christian fiction, but I refuse to miss one of Iowa author Katie Ganshert's novels. Katie weaves real-life circumstances with biblical truths to create believable and compelling story lines.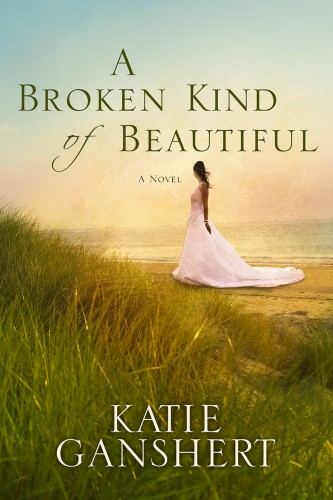 In her latest novel, A Broken Kind of Beautiful (released April 15), Katie explores many themes through her characters, such as forgiveness, beauty, brokenness, trust, love, and commitment. But it's the truth of God's redemption that shines most brightly in this captivating read. I ended the book eagerly wanting more. 
A Broken Kind of Beautiful
In A Broken Kind of Beautiful we follow Ivy Clark, who went from being a rejected and abandoned little girl to a drop-dead gorgeous model at age 14. As a teenager in a fast-paced glamorous world, Ivy learns to use her beauty to her advantage and vows to never be hurt again.
But years later, as a 24 year old, Ivy begins to realize skin-deep beauty is not the kind that lasts. Her world turns upside down, and she grows desperate to right it.  
This desperation forces Ivy to face her painful past once again. She winds up living with Marilyn Olsen, a stepmother she never wanted, and working alongside Davis Knight, a man she doesn't understand.
Although, I sympathized with Ivy's plight, it was in the characters of Marilyn, Davis, and his blind sister, Sara, where I noticed reflections of my own life. Each of their struggles, in some sense, parallel those of ours as we strive to make sense of our walk in this broken world. 
As the story unfolds, readers are drawn into Ivy's emptiness, Davis' guilt, Marilyn's heartache, and Sara's loss. And we see glimpses of our own efforts to trust, forgive, and surrender control. 
A (Our) Story of Redemption
Katie Ganshert masterfully weaves the plot line of A Broken Kind of Beautiful, with veins of God's truth and grace intersecting with human failings. Through her characters, she wrestles with the tough life issues we all face and gently draws us into a deeper understanding and acceptance of the depth of God's love and forgiveness. 
But most captivating in this novel is the way Katie gently unwraps and exposes the gift found in brokenness: the beauty of redemption. His love for us rings true in this verse Sara pens for Ivy:
 "Fear not, for I have redeemed you; I have called you by name, you are mine." (Isaiah 43:1)
Jesus Christ bought redemption for us all through His shed blood. But if we're honest, it's through our brokenness that we finally become open to the Lord's redemptive work in our lives. [←Tweet this.]
And that makes for a truly broken kind of beautiful. 
"The Lord is near to the brokenhearted and saves the crushed in spirit." (Psalm 34:18)
 You can purchase Katie's latest novel at Christianbook.com or any of your favorite booksellers. 
And now for a fun giveaway! I love Katie's books so much I want to give you a chance to read them for yourselves. Just follow the Rafflecopter prompts below for a chance to win Katie's first two novels, Wildflowers from Winter and Wishing on Willows. (Read my review of Wildflowers from Winter by clicking here.) 
Also, Katie is hosting a A Broken Kind of Beautiful Facebook Webcast Party on April 21st, from 6-7pm (CST). Click here to see the Facebook invite. The fun includes 6 prize packages.
Disclosure: I received an Advanced Reader Copy from the author, but was not required to write a positive review.
Linking with:
Yours in grace ≈
Julie