How many times have I looked at my daughter and wondered why God hasn't offered His healing to her?
He has the power. I know that. He could heal her through waters like the pool of Bethesda (John 5:1-14). 
He could heal her by speaking the words like He did for the centurion's servant (Matthew 8:5-13).
He could heal her by smearing her with mud (John 9:1-12) or touching her with His nail-scarred hands (Mark 5:37-42), or by simply delivering the healing through the gifts of others.
But for reasons only He knows, God hasn't chosen to do any of those. He hasn't healed her—at least in the way I think of healing.
And so the Rachel I know and love ministers on. In her innocent joy, she brings smiles, wrestles brothers, exasperates and inspires her mama, and melts her daddy's heart.
And although there will continue to be moments of frustration, pain, and wondering (especially when I look deep into those sparkling brown eyes), I'm beginning to get it … just a tiny bit:
Why Doesn't Healing Come?
God doesn't always provide healing because He knows a thorn in our side is better than an eternity in hell. [←Tweet this.]
Perhaps God hasn't healed Rachel because He cares more about our spiritual—soul—condition than our temporary physical bodies.
Perhaps He's using Rach in all her beauty, innocence, strength, and dependence to shape, mold, and guide me and others to a more intimate relationship with Him.
Perhaps it's because He loves us so deeply that He can't stand to watch us live self-absorbed lives, pursuing an allusive joy in the trappings of this fallen world.
Perhaps God allows the pain and suffering we experience in this world because He loves us too much not to. [←Tweet this.]
God's Love
As Christians we know God loves us. He couldn't make it any clearer: "But God shows his love for us in that while we were still sinners, Christ died for us" (Romans 5:8). And "For God so loved the world, that he gave his only Son, that whoever believes in him should not perish but have eternal life" (John 3:16). 
And as a loving Father, He gives us good gifts. The evidence is there: 
"Which of you, if your son asks for bread, will give him a stone? Or if he asks for a fish, will give him a snake? … how much more will your Father in heaven give good gifts to those who ask him!" (Matthew 7:9-11). 

"This is love: not that we loved God, but that he loved us and sent his Son as an atoning sacrifice for our sins" (1 John 4:10).
And promises to never leave us in our suffering. In fact, He lovingly collects each of your tears in a bottle, offering hope of something infinitely better to come (Psalm 56:8).
Dear One, I don't know the pain you are experiencing. I don't pretend to understand the anguish you feel. You may have a debilitating disease, been used and discarded by one you've trusted, watched a loved one die, or are struggling in a million other ways.
But within your suffering, consider … just consider, perhaps God allows our pain because He wants to perform a deeper healing … in the hearts of you and me. [←Tweet this.]
In the long-term picture of eternity, that makes it all worthwhile, don't you think?
"And after you have suffered a little while, the God of all grace, who has called you to his eternal glory in Christ, will himself restore, confirm, strengthen, and establish you" (

1 Peter 5:10

).
Reflection: How does knowing God has a plan for your suffering make it easier to live with? Or doesn't it? How can I pray for you? 
Linking up again this year with Ann Voskamp's 2014 Joy Dare. Find the linkup at A Holy Experience. Beginning where I left off in 2013. What a blessing! #2460–2480, read the entire list by clicking here.
Mindless chores like dishes for added time to think, dream, and pray; Danny safely back to college; Grandparents

Moaning of the trees in the wind–eerie and peaceful at the same time; Zach's first college acceptance; Hubby bearing gifts

Spending the first moments of the day in God's Word soaking up His truth; Rachel's bearhugs; Moon bright thru snowflakes

Rach getting in trouble for throwing a peach at school–sorry, but you have to know my girl to laugh; Walk with hubby in the face of a brisk wind; Rach's giggles as she gave me a Draw 2 in UNO 

Fun Web apps that are also useful; Small steps of progress going into Sat.; Sunlight streaming in 

Digging snow tunnels and forts; Andes Double chocolate peppermint crunch cookies–a unique delicious treat; These winter-fluffed little guys

Fast-paced action of indoor soccer, especially watching Zach play; Haunting call of an owl in the late afternoon; Full moon shrouded in the clouds on the drive home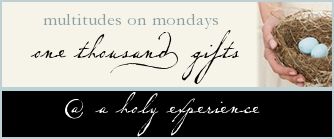 and
Yours in grace ≈
Julie