Who doesn't want joy—that feeling of well-being and delight?
I venture to suggest we all want it.
But if you're like me, you find joy somewhat elusive. It slips quietly into my day, only to leap away before I can fully harness it.
Yet I keep trying.
I buy nice things for myself and others. I plan fun vacations. I spend time with wonderful people. I attend church regularly. I serve in many capacities within my church, my family and the community.
But still, the wonder and happiness of hours and days eventually give way to boredom, frustration, fear, jealousy, self-centeredness … 
In my earthly ramblings, I get a taste of joy and want more. But I search for more joy in all the wrong places. 
At the end of the day I'm wrung out and frustrated. 
Searching Among the Temporal
King David (Samuel 1 and 2, 1 Kings, 1 Chronicles) did the same thing: He often searched for joy in the temporal. 
As God's chosen king of Israel at a young age, one would think David had it made—that he would have joy unending. Yet through the book of Psalms, we hear the pain and desperation of a man longing for all that Lord has to offer but who fails in the flesh.
"For my sins have flooded over my head; they are a burden too heavy for me to bear. My wounds are foul and festering because of my foolishness" (Psalm 38:4-5).
Although David loved the Lord, his pride and lust directly led to the death of his young son. And I've heard commentary about his lack of presence and guidance as a father.
Repeatedly, King David tried to strike a claim to joy in the things of this earth. 
Secured Joy
I love the biblical account of David, because despite his human failings, the king of Israel knew where the source of everlasting joy lay, and He shared it with us!
"I sought the Lord, and He answered me and delivered me from all my fears. Those who look to Him are radiant with joy; their faces will never be ashamed" (Psalm 34:4–5).
Joy isn't found in getting the latest, greatest gadget. Or in securing all our plans. Or in having good health. Or even in attending church and serving others.
Joy is found in the hope of salvation.  
And salvation is only obtained through a relationship with God, secured in the sacrifice of His Son, Jesus Christ.
That's why the angel proclaimed
"Don't be afraid, for look, I proclaim to you good news of great  joy that will be for all the people: today a Savior, who is Messiah the Lord, was born for you in the city of David" (Luke 2:10–11, emphasis mine).
To find true, everlasting joy, you need only to dwell in the presence of the Lord. 
The problem is our flesh gets in the way of that relationship. And as our flesh increases, joy decreases. As we drift from Him, our joy dries up. 
That's why I find myself drawn to this passage in Scripture: 
Create in me a clean heart, O God,
And renew a steadfast spirit within me.
Do not cast me away from Your presence
And do not take Your Holy Spirit from me.
Restore to me the joy of Your salvation
And sustain me with a willing spirit.—Psalm 51:10–12
Restore in me the joy of Your salvation, dear Lord, and sustain me with a willing heart! 
Oh, how I need that willing heart. To die to me. To exalt Him. 
When we live a life steeped in the gift of our salvation, that's when we secure joy. That's when the true fruit of joy will see sustaining growth.
Q4U: What is one practical step you have taken to cultivate the fruit of joy in your life?  Please share in the comments. 
Yours in grace ≈
Julie
Linking with Ann Voskamp at A Holy Experience in 2013 for my Joy Dare list  for Multitude Mondays (#1515–1535, read them all by clicking here):
Checking "to-dos" off list; Symphony of the wind in the woods; 3 very helpful customer service people, all from different companies

Beauty of snow falling thru trees; Warm shower after romp in snow; Recent amazing evidence of God at work in our lives!

Endless encouragement fm Scripture; Gazillion stars visible tonight; Joey's perseverance=16 verses of bk of Romans down

5th-12th grade band concert tonight; Danny was offered summer job he wanted & can go to youth gathering; A decision made

Hearing fabulous Univ. of Concordia Symphonic Band music; Getting to know four wonderful young men; Sharing blessings

Quiet rainy day indoors; God's provisions just when needed; Serving college students by preparing an early morning brkft

Rivets of water cutting through the mud & snow; Above freezing temps for travel; A husband gifted in creating with wood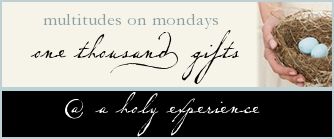 Also linking with the following wonderful sites: