Looking to be inspired, uplifted, informed, entertained, and guided? These books, each in its own way, will do just that. I'd highly recommend every one of them to you (many I've even reviewed on my blog). 
Looking to be inspired, uplifted, informed, entertained, and guided? Check out these books! Click To Tweet
May you find this grossly incomplete list helpful in your journey through this broken but glorious life.
Encouragement in Suffering/Brokenness
One More Step: Finding Strength When You Feel Like Giving Up by Rachel Wojo
Undone: A Story of Making Peace with an Unexpected Life by Michele Cushatt
The Hardest Peace: Expecting Grace in the Midst of Life's Hard by Kara Tippetts
Choosing to See: A Journey of Struggle and Hope by Mary Beth Chapman with Ellen Vaughn
Good Grief!: How to Create an Oasis When Life Is a Desert by Erica McNeal
When God Weeps by Joni Eareckson Tada & Steven Estes
I Will Carry You: The Sacred Dance of Grief and Joy by Angie Smith
When A Woman Finds Her Voice: Overcoming Life's Hurts & Using Your Story to Make a Difference by Jo Ann Fore
Special Needs
Sometimes Miracles Hide
 by Bruce Carroll
Light From Lucas: Lessons in Faith From a Fragile Life
 by Bob Vander Plaats
Son Rise: The Miracle Continues
 by Barry Neil Kaufman and Raun Kaufman
Miscarriage
I'll Hold You in Heaven by Jack W. Hayford
Family/Parenting
Joni & Ken: An Untold Love Story by Ken Tada, Joni Eareckson Tada, Larry Libby
Granny Camp! How to Bond With Your Grandchildren
 by Anne Dierks
Give Your Child the World: Raising Globally Minded Kids One Book at a Time by Jamie C. Martin
Platform/Ministry
Platform: Get Noticed in a Noisy World by Michael Hyatt
Devotions/Bible Study
I Know His Name: Discovering Power in the Names of God by Wendy Blight
Devotions for a Healthier You: Feeding Mind, Body, and Soul by Katie Farrell
Inspirational/Personal Growth
One Thousand Gifts: A Dare to Live Fully Right Where You Are by Ann Voskamp
You're Already Amazing: Embracing Who You Are, Becoming All God Created You to Be by Holley Gerth
What Women Fear: Walking in Faith That Transforms by Angie Smith
Fully Alive: Lighten Up and Live Again—A Journey That Will Change Your Life by Ken Davis
Until We All Come Home: A Harrowing Journey, A Mother's Courage, A Race to Freedom by Kim Blecourt & Ginger Kolbaba
Greater: Dream Bigger. Start Smaller. Ignite God's Vision for Your Life by Steven Furtick
Unglued: Making Wise Choices in the Midst of Raw Emotions by Lysa TerKeurst
Grace: More Than We Deserve, Greater Than We Imagine by Max Lucado
Fiction
Wildflowers from Winter by Katie Ganshert
Wishing on Willows by Katie Ganshert
A Broken Kind of Beautiful by Katie Ganshert
Christmas
Unwrapping the Greatest Gift by Ann Voskamp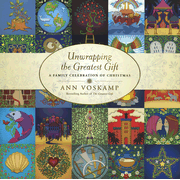 The Women of Christmas by Liz Curtis Higgs
Christmas in My Heart series by Joe L. Wheeler

The Glory of Christmas, Collector's Edition by Max Lucado, Charles Swindoll & Others
Just 25 Days 'Til Christmas: An Advent Celebration for the Entire Family
 by Rebecca Hayford Bauer
The Max Lucado Christmas Collection
 by Max Lucado
I'm so glad you're here to walk with me through this messy but glorious journey called life! Please consider sharing this post with your family and friends. And don't miss a single piece of encouragement! Sign up to get every post in your inbox. It's free, and you'll receive free gifts just for signing up. Oh, you can unsubscribe at any time.
Yours in grace ≈
Julie
*There are affiliate links on this page, meaning if you click through and purchase, I'll get a small commission at no added cost to you.