Some days I get tired of the digging. I get tired of digging out of the many holes I find myself in. Financial. Marital. Parental. Physical. Mental. Emotional. And worse, some days those "-al" holes cave in, burying me in mounds of dirt.
Stifling and suffocating, the situation appears helpless … hopeless. 
Photo courtesy of Mindfulness.
I know you've been there, too. We all have. It's part of living in this fallen world.
Our tasks, obligations and relationships often lie insurmountable in front of us. We see no path around, over or through them. Waves of despair smother us. Like the fleeing Israelites when they came to the Red Sea, we are blinded to the possibilities of the impossible.   
But that doesn't mean the impossible is unattainable.
Hopeless doesn't have to mean without any hope. It just means we have to look at things from a new perspective. And the only true perspective is the Lord's.
My understanding of "hopeless" and "impossible" took on a new meaning when a particular Scripture passage arrested my attention not long ago. In Romans 4:18, Paul writes of Abraham's faith: "Against hope, with hope he believed …"
The first thought that struck me was, How can you both have hope and not have hope? But that's how Scripture reads. And indeed, Abraham is credited with both. 
If anyone has had reason to believe a situation is … say … slightly impossible, Abraham did on this occasion: He was quite certain He and Sarah could not have any children. They were long past childbearing years with He being 100 and Sarah 90. Yet, he believed God's promise that he would be a "father of many nations" and that his descendants would be as numerous as the stars in the sky.
To our thinking, such a promise would be laughable and ludicrous. But not to Abraham. Although he had no hope of accomplishing such a feat, he had the guaranteed assurance from the Lord it would happen. In a nutshell, Abraham had no human hope, but he held onto Divine Hope.
We can do the same thing.
God declares He will orchestrate all things for our good (Romans 8:28). He promises "plans to prosper you and not to harm you, plans to give you hope and a future" (Jeremiah 29:11). He guarantees He will never leave nor forsake us. 
These words from the Lord are not just trite hopeful wishes, but blessed assurances. Something we can count on, without fail.
Abraham stood strong on these promises before his son's birth and when he was asked to sacrifice him. Noah held onto these truths while being ridiculed for building an ark when no flood was in sight. Moses believed in these pledges as he led the Israelites out of slavery. And Mary held fast to all His promises as she willingly took on the role of mother to the Son of God. 
So against all hope, you and I can Hope as well. Hope in the promises of the sovereign Lord. Hope in His impossibly possible economy. Hope that He will never let the "-al" holes get too deep.
And Hope that on the days when the holes cave in and we begin to suffocate, He is breathing for us. 
"Against hope, with hope he believed … " (Romans 4:18 HCSB).
Q4U: Have you seen evidence of Hope when none was possible? Have you ever sensed the Lord breathing for you when the holes of your life caved in?
Yours in grace ≈
Julie
Linking with 

Ann Voskamp

 at A Holy Experience in 2013 for my Joy Dare list  for Multitude Mondays (#1455–1475, read them all by 

clicking here

):
Phone call of encouragement; Disc of photos from dance; Delicious homemade cornbread in castiron skillet

A beautiful wooden laptop stand built by hubby so I can stand to work; Joe & Rach playing football in livingroom; The sun

Productive,inspiring day; Congregational singing a cappella style during AshWed service; My boys' constant encouragement

First real jog in a long while, and I lived!; Much-improved limp from my knee injury; All the love in my life

My agenda flipped 180 deg.; Snuggling under covers w/ bk & tea at 9 on a Fri. night!; Day w/ kids home sick=time together

Son worrying about me staying hydrated–so sweet; All pitching in so I could lay low & convalesce; On road to wellness!

Discipline of memorizing Scripture; Just being with my children; My health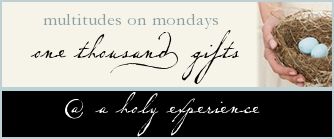 Also linking with the following wonderful sites: