World peace sounds like just the thing. It's politically correct. It's a lofty goal. And who would argue against it?
But it is impossible.
Since that fateful day when Adam and Eve sinned in the Garden, we haven't had peace among men. And we won't have peace again until our Savior returns.
In our humanness, it doesn't make sense, but Jesus didn't come into this world to bring peace among people but to cause division and unrest.
"Do not suppose that I [Jesus]  have come to bring peace to the earth. I did not come to bring peace, but a sword. For I have come to turn 'a man against his father, a daughter against her mother, a daughter-in-law against her mother-in-law—'" (Matthew 10:34-35).
According to Scripture, the Son of God gave up His crown, His glory, to be born a man—to be ridiculed, beaten, and crucified. But He didn't do it to bring us earthly peace. That would be far too minor an outcome for such a huge display of love.
Jesus gave up everything to bridge the chasm of sin between Creator and created. He became the sacrifice to atone for our sins.
With His life, Jesus Christ secured peace between His Father and us.

So how does that carry over into our days? What does the fruit of peace look like in our lives?
The Apostle Paul's life is a good one to explore to understand peace as a fruit of the spirit.
From persecutor to persecuted, from a merciless, self-righteous zealot to a surrendered, devoted disciple, Saul became Paul in a dramatic conversion on the road to Damascus (Acts 9). Although previously one of the most aggressive oppressors of Believers, Paul became one of God's most useful instruments to spread His Gospel in the early days of the Christian church.
Upon being baptized, Paul began a ministry that brought Christianity to non-Jews throughout the Roman Empire. He paid dearly for his devotion to the Lord though.
The Apostle suffered many imprisonments and horrible beatings, was near death many times, was shipwrecked and beaten with rods three times, was stoned, and faced dangers everywhere he went (2 Corinthians 11).
Yet during times of his greatest persecution, Paul seemed to experience his greatest peace.
Why? How?
Because peace isn't the absence of trials—or difficult people—it is the presence of assured hope.
The assured hope that Jesus' suffering bridged the gap between us and His Father. The assured hope that peace is secured between us and the Almighty. The guarantee that we will never be left alone in our suffering (the Lord will strengthen us) and that nothing we endure in this life is wasted (all our experiences will be used together for our good).
This is how Paul was able to worship and praise God while chained in a filthy dungeon … while beaten for his witness … while shipwrecked … while stoned and left for dead.
This is grace. This is peace.
The Apostle Paul was not a man physically stronger than you and me. He was not a man more righteous than you or me or more loved by God. He was a sinner like each of us.
But he knew the secret of contentment, of peace, in all circumstances. That secret is Jesus Christ. That secret is the blessed assurance Jesus gives of a future that far surpasses anything we can imagine.
Because Jesus Christ willingly gave Himself up for us, we have secured peace with His Father. A peace, we can live out by remembering the words of Philippians 4:13:
"I can do all things through Him who strengthens me."
Let Him lead you. Let Him comfort and console you. Let Him strengthen you.
Then you too will be growing the fruit of peace.
World peace sounds wonderful but is impossible until the second coming.
Peace with God breeds contentment and is ours to bear now. 
"Therefore, since we have been declared righteous by faith, we have peace with God through our Lord Jesus Christ" (Romans 5:1).
Question for you: Has there been a time when you've experienced a peace beyond understanding? Please share in the comments.  
Yours in grace ≈
Julie
Linking with Ann Voskamp at A Holy Experience in 2013 for my Joy Dare list  for Multitude Mondays (#1536–1556, read them all by clicking here):
World's greatest healthcare; Goofiness around the table; Sound of the floodwaters pouring over the dam

Hot water bottles; Listening to "Old MacDonald Had a Farm" sung in Latin by our high school students; Tempering of age

My sweet girl reaching over&taking my hand in church; Bright red cardinal against white, snowy background; Lord's prayer

A less painful neck tonight; Hubby home after two nights away; Feeding the guinea pig lettuce–he gets so excited!

Hub's work at getting all ready for new tile; "Spring" meal: chicken, potato salad&fruit salad; Water crashing over dam

2 doz robins in yard this a.m.; Long, boring job–perfect 4 memorizing

#RomansProject

; Furry guy

Online Bible apps; My red water bottle; Anticipation of family gatherings quickly approaching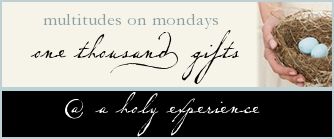 Also linking with the following wonderful sites: